Zoom MS-70CDR Effect Pedal for Synths
The Zoom MS-70CDR is a multi-effect pedal obviously meant primarily for guitarists, but did you know that it is also excellent for synthesizer players? It is easy to use and customize with your own presets, and offers an insane value for money. Let's look at it in detail.
Most modern digital synthesizers have a good selection of effects, but the farther back in time you go, the less effects you tend to have in a synth. Classics like Yamaha DX7 (1983) and Kawai K1 (1988) have none. Roland D-50 (1987) was actually one of the first commercial synths with reverb and chorus, followed by the KORG M1 (1988).
Especially today's budget analog synths tend to have very few, if any, effects built-in. For example, the KORG minilogue only has a delay (although the minilogue xd has reverb, delay and modulation from the top-of-the-line Prologue). Similarly, the IK Multimedia UNO Synth has just a delay, and the Behringer Crave has no effects at all.
Often it is the effects section that rounds up the sound of a synth, so much so that the effects actually are an integral part of many preset programs. The upshot from this is that you may well need to pair your synth with an effects processor. That could be either your DAW with its comprehensive selection, or an effects pedal, or a rack unit. Especially if you also play the guitar, an effects pedal is very handy choice.
Cheap but insanely powerful
There are expensive boutique pedals like those from Strymon and Eventide, there are great mid-price single-purpose stompboxes from Boss, and then there are the cheap ones from Zoom. However, you should not judge the Zoom units on price alone, because the value for money they offer really is off the chart.
For example, the Zoom MS-70CDR is a small DSP technology powerhouse, offering six simultaneous effects connected in series. In total there are 137 effects, ranging from chorus, delay and reverb (hence the CDR in the model name) to compressors and equalizers. Most of the effects are strongly influenced by big name pedals from well-known manufacturers, and in many cases you get very close to the original indeed.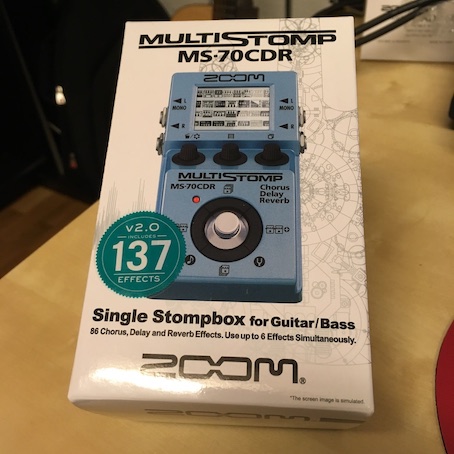 The MS-70CDR is even a stereo processor, although you can use it with a mono signal. It runs either on battery power or a USB-connected power supply (like the Zoom AD-16).
The number of effects was greatly increased with the firmware update version 2.0, so to get the most out of the pedal, make sure that you have the latest firmware version from the Zoom website (as of this writing it is version 2.1). The firmware can be updated using a Mac or PC and a USB cable.
Patches and presets
The Zoom MS-70CDR can store a total of 50 user presets with effect settings. Out of the box it ships with 30 presets, but they are obviously geared towards the needs of guitar players. For synth nerds, we need to turn to the talents of Nick Klimenko of Lfo.store.
Galactic Spaces is a collection of 50 presets for the Zoom MS-70CDR, especially suitable for use with synthesizers. There are awesome shimmer reverbs, tasty delays and choruses, which of course can be used with guitars, too.
The collection costs 15 US dollars, and you can transfer the presets to the MS-70CDR using a very handy web-based utility that works in the Google Chrome browser (because it uses the Web MIDI APIs). Here is the Galactic Spaces demo video:
If you have a Zoom MS-70CDR and would like to test the waters with free synth-specific presets, Yuki has a couple to share, and you can also exercise the browser-based utility:
This is wonderful stuff, but this pedal can offer so much more...
Huge Synth Patch From Just a Sawtooth Wave Using an Effects Pedal
(Actually not the title of a lost track by The Orb)
To prove how powerful the Zoom MS-70CDR is in the right hands, I'd like to present you a video by OscillatorSink, where he constructs an epic synth patch from just a simple sawtooth wave generated by a KORG monologue, processed with various effects from the MS-70CDR. Get ready to have your mind blown:
The resulting synth sound itself is fantastic, of course, but the final killer blow was when at the end of the video he went backwards, disabling all the effects one by one, and ending up with just the original sawtooth wave. Now that is what I call creativity!
If you have ever thought of introducing your synth to an effect pedal, you should seriously consider the Zoom MS-70CDR. If it doesn't fit your needs, you can always sell it to a guitarist -- but I don't think you'll want to!
Buying one? Try Thomann
If you're decided to get your hands on a Zoom MS-70CDR, you could try the Musikhaus Thomann webshop. If you follow the links below and end up buying, we get a small commission which helps to keep this site up and running.
Until I can get myself to write enough JavaScript to make a more elegant Thomann country selector thingy that remembers your selection, here is a little forest of links where you can pick the Thomann web shop country that is best suited for you:

Deutschland |

France |

Österreich |

Danmark |

Suomi |

Belgium |

Portugal |

Elláda |

Česko |

Great Britain |

España |

Italia |

Sverige |

Nederland |

Luxembourg |

Ireland |

Polska |

România
---