KORG wavestate First Light
I have been planning and saving to get a KORG wavestate this since last January, ever since it was introduced at NAMM 2020. Availability has been low with many dealers, but I was lucky to grab one at my local music shop. So let this be the day when I became the proud owner of the KORG wavestate "wave sequencing synthesizer".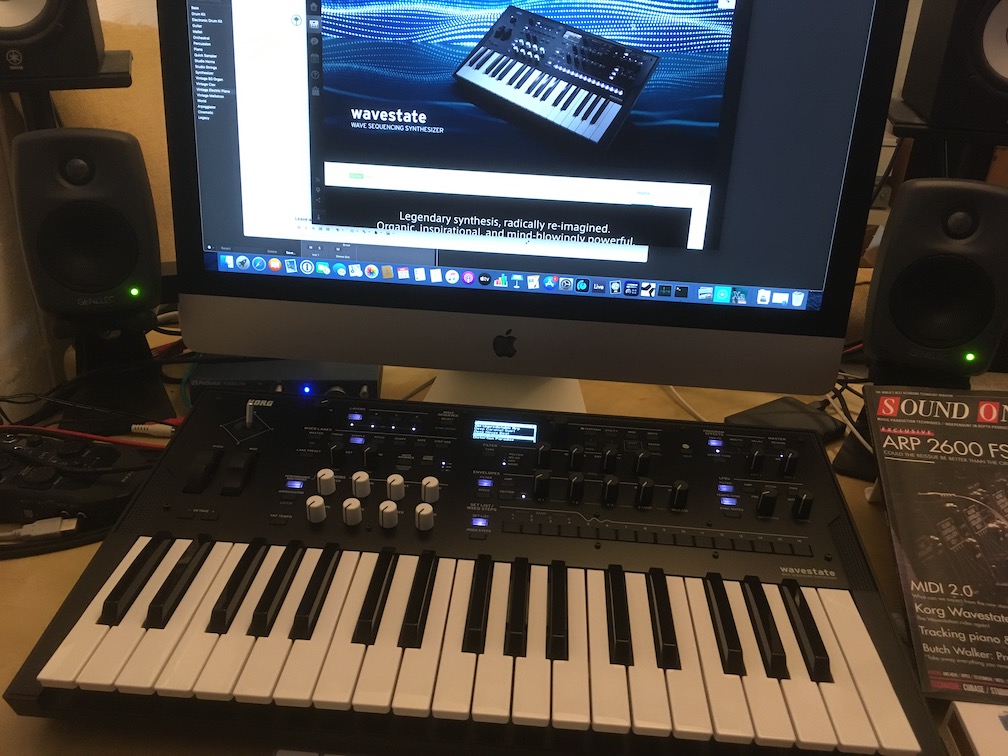 So far I've spent a total of three hours with the wavestate, so I obviously am nowhere yet, but I'm taking my time, since I'm planning to be in this for the long haul. While looking for something to latch onto properly, to serve as something that can anchor my focus, I've looked at digital synths old and new, and also the new analog synths. I've come to the conclusion that digital is really what interests me most. While I'm not putting down anyone who is enthusiastic about old and new analog, it's not my scene.
The way I'm thinking about it is like this: the original Wavestation was introduced in 1990, and that was thirty years ago. This year, 2020, is the year of the wavestate. If I'm still alive thirty years from now, in 2050, the wavestate is the synth I'm going to be tweaking.
Three hours to thirty years is not much yet, but I finally have a modern digital synth that is so deep it has an echo (or a reverb, more accurately, but that was just a pun).
Version matters
My wavestate shipped with software version 1.0.2. KORG has recently released both version 1.0.3 of the software and a Librarian application. To use the Librarian, you need to update the wavestate software to 1.0.3. I'll be doing that in a short while. So far I've just managed to trawl though the 200 factory "performances", some downright awesome, some maybe more gimmicks to show off how to use the new wave sequencing engine.
Both the System Updater and the Librarian are available on the KORG website, in the wavestate support section, along with the latest documentation.
There is also an unofficial peer support site known as the KORG Forums, where recently a wavestate subforum has been established.
Get to know the wavestate
KORG has released a six-part series of instruction videos for the wavestate on YouTube. Part 1 deals with the basics of wave sequencing as found on the wavestate, or "Wave Sequencing 2.0":
Despite the original promo video (which I won't link to) I think the strength of the wavestate will be with evolving soundscapes for cinematic and ambient music, but it's definitely capable of more immediate and aggressive stylings as well, or more traditional piano and strings type stuff.
My own interests lie in the more ambient end of the spectrum, so this should be interesting.
Just a disclalmer: my wavestate is paid for with my own dime; I have not received a loan unit from KORG or anything like that. They probably don't have that many units to spare, since it seems they can't make them fast enough.
If this website is still up in 30 years, it will be interesting to assess what happened in between. Did the wavestate become a modern classic, as many reviews have predicted? My feeling it that this will indeed be the case.
Buy KORG wavestate from Thomann
Here are direct links to Musikhaus Thomann for KORG wavestate. If you buy from them, this site earns a small commission, which helps to keep this site up and running with no ads.

Deutschland |

France |

Österreich |

Danmark |

Suomi |

Belgium |

Portugal |

Elláda |

Česko |

Great Britain |

España |

Italia |

Sverige |

Nederland |

Luxembourg |

Ireland |

Polska |

România
---