KORG wavestate Sound Librarian in Windows 10
Some KORG wavestate users have reported that they have trouble installing the wavestate software update and/or the wavestate Sound Librarian application in Windows 10. I'm primarily a Mac user, but I also have a Windows PC for software development, so I decided to try and see for myself how it would go.
TL;DR: You don't need to install the KORG USB MIDI driver for the wavestate, but you should update the USB RNDIS drivers as instructed.
UPDATE: Windows 10 Version 2004 breaks the RNDIS connection!
Unfortunately, it seems that Microsoft has changed the Windows 10 RNDIS functionality in a way that interferes with the operation of the KORG wavestate Librarian. This results in the Librarian being unable to connect with the wavestate, so that you only see the "Waiting for device..." screen when you start up the Librarian.
This issue has been confirmed by KORG already several weeks ago (as of this update 2020-10-09), and they are working with Microsoft to find ways to correct the problem. In the meantime, avoid updating to Windows 10 Version 2004 unless it is necessary for other reasons.
Since I'm primarily a Mac user, but keep a Windows 10 PC around for various purposes, I was able to "take one for the team" and verify this problem first hand. I updated to Windows 10 Version 2004, connected my wavestate to the PC and started up the Librarian. Sure enough, whereas earlier I was able to use the Librarian normally to browse and import patches, now it was stuck at the "Waiting for device..." screen indefinitely.
Since at this time the problem has been acknowledged by KORG, but there is currently no workaround, I did not do any extra troubleshooting. If and when the problem is corrected or worked around by Microsoft and/or KORG, this post will be updated accordingly.
The rest of this post applies to a situation where the RNDIS connection to the wavestate is working normally.
RNDIS over USB, not MIDI SysEx
The Windows 10 PC does not have the KORG USB MIDI driver installed, and it is not needed for the wavestate, because the synth communicates with the PC through an RNDIS connection over USB. RNDIS, or Remote Network Driver Interface Specification, is a network protocol invented by Microsoft. My best guess is that KORG has selected this protocol because the wavestate is powered by a Raspberry Pi Compute Module 3+ with a custom version of Linux (see the patch repository for details).
The choice to use RNDIS may also be due to USB networking being generally more flexible, more reliable, and faster than trying to send lots of program and performance data back and forth using MIDI System Exclusive messages. That doesn't mean that other KORG synths like the minilogue xd would not do exactly that, but each development team has their reasons, and anyway I'm just making educated guesses. In any case, not using MIDI SysEx is a break from tradition, and we'll just have to get used to it.
So if you were thinking of installing or updating the KORG USB MIDI driver, it is not necessary or helpful when updating the wavestate or installing the Sound Librarian on a Windows PC. If you have already installed it for other devices, it's fine. The wavestate does seem to expose MIDI input and output ports through USB.
Connecting the wavestate to the PC
The first step before installing the Sound Librarian application is to connect the KORG wavestate to the PC using a USB cable. After connecting I turned the wavestate on, and as expected, this resulted in Windows 10 giving a couple of notifications, first about preparing the wavestate, and then about the device being ready to use.
At this point the wavestate probably could already communicate with the PC, but there was no application to talk to it yet. The Sound Librarian requires at least version 1.0.3 of the wavestate software. As I had updated my wavestate to version 1.0.3 earlier on my Mac, I knew that I could proceed to install the Sound Librarian.
Setting up the Sound Librarian
The KORG wavestate Sound Librarian is an application for Windows or macOS, freely downloadable from the KORG website. For this experiment I downloaded the Windows version, which is specified to work in Windows 7, Windows 8, and Windows 10. The PC I'm using has Windows 10 Pro Version 1909 installed. There is a new, big Windows update coming, but I haven't installed it yet, so I can't tell you if that would be causing any particular problems.
After unzipping the Sound Librarian I first had another look at the included documentation for a recap of the instructions. To me it seemed like a good idea to not start up the Sound Librarian before I had checked the RNDIS driver, as stated in the instructions. So when I ran the executable file and went through the setup process, I was careful to de-select the option to run the app.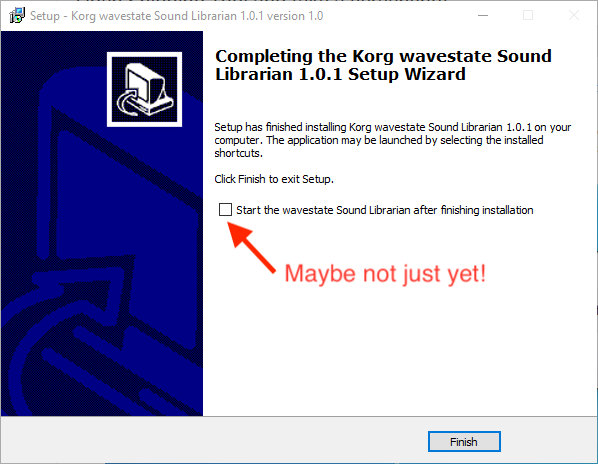 Instead, I finished the setup and opened Device Manager (just type its name in the Windows 10 search bar). The first time I did it I was on a non-administrator account, so I could not make any changes. I logged out and back in with my Administrator account, and then started Device Manager again. Carefully following the installation instructions, I found the USB RNDIS driver and updated it. I got a warning about the drivers, but like the instructions said, I told Windows it was OK.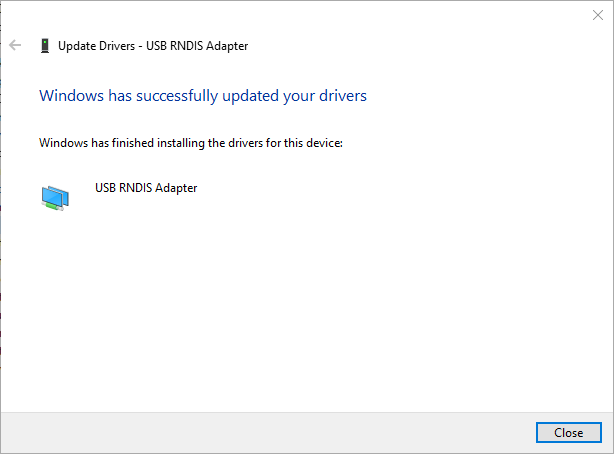 Starting up
When the Sound Librarian started up, it briefly showed "Waiting for device", and then listed all the content on my wavestate, as expected. Some users have reported that the Sound Librarian does not proceed further from the waiting phase, and I don't have a clear idea of why that should happen. If this is the case with you, then you should contact your dealer. A possible reason is a failure in the USB RNDIS networking, which could maybe be the result of the drivers being out of date.
The Sound Librarian installation instructions clearly say that you should check the status of the USB RNDIS Adapter drivers and update them. If you haven't done at least that, it may be very difficult to diagnose what the actual problem is.
So, as always, Read the Friendly Manual.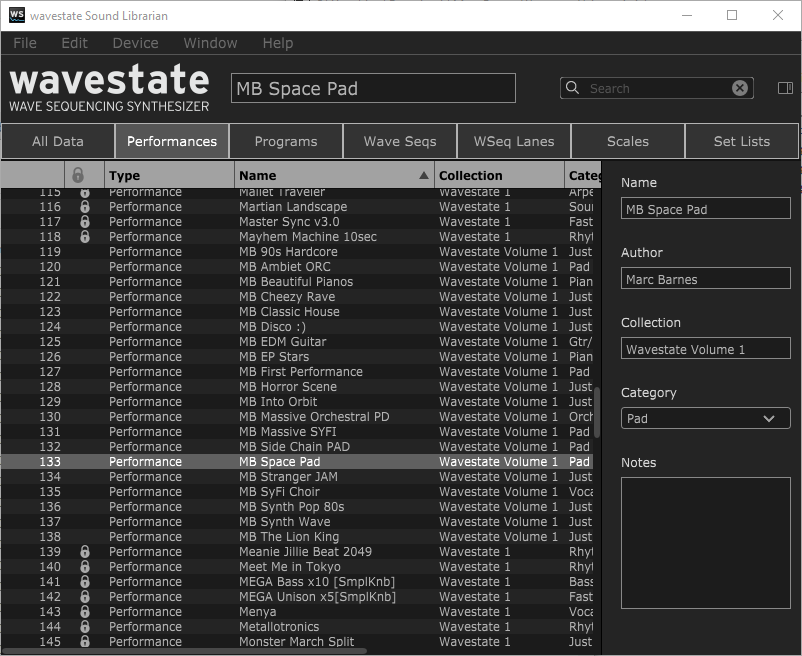 I was able to import the programs and performances in the excellent KORG wavestate Volume 1 by Marc Barnes sound library with no trouble at all.
Back to the Mac
The purpose of this experiment was to try and see if there are any obvious problems with installing and using the KORG wavestate Sound Librarian on a PC running Windows 10 Version 1909. It seems that there should be none, but if you continue having trouble, reach for technical support through your dealer.
NOTE: See the update section above for problems with Windows 10 Version 2004!
I didn't enjoy the Windows setup experience very much, so I'm back to the Mac for the next wavestate related operations. On macOS Catalina there are some additional quirks due to security restrictions, but those are also covered by the installation instructions.
It's a good thing that KORG supports both Mac and PC equally well. The Sound Librarian looks and behaves pretty much the same on both platforms, so in that sense it doesn't really matter which one you use.
Want a KORG wavestate? Try Thomann
Here are direct links to Musikhaus Thomann for KORG wavestate. If you buy from them, this site earns a small commission, which helps to keep this site up and running with no ads.

Deutschland |

France |

Österreich |

Danmark |

Suomi |

Belgium |

Portugal |

Elláda |

Česko |

Great Britain |

España |

Italia |

Sverige |

Nederland |

Luxembourg |

Ireland |

Polska |

România
If you end up buying from them, I get a small affiliate compensation, which helps to keep this site up and running. Thanks for your support!
---